Pretty Cards & Paper featuring *** Best Dressed
DSPを取り上げて紹介するインターナショナルブログホップです。今回はミニカタログから
ベストドレスド
をとりあげます。下の方に世界各国のデモさんの作品がみれるようリンクがありますので、そちらから海外の方々の作品もご覧ください!また、日本語記事も別途アップします。そちらの方が実は詳しく書いています。へへへ。
Welcome to Pretty Cards & Paper Blog Hop. We are an international design team of Stampin' Up! Demonstrators who have come together to share projects focusing on the beautiful Designer Series Paper and card sets in the Stampin' Up! Catalog. Each month we are featuring a different paper. This month it is Best Dressed. Make sure to check out all the blogs in the hop for a different idea using this months featured DSP!
You are now at "Yoshiko Endo - Japan" 's Blog.

And, this is my project.
This month, I've gotten my project ready with plenty of time, and I feel great about it.
(Usually, I am a last minute person.)
Since I am not a make-up lover, I've decided to use the flower-sides of these DSPs, which I love.
This card, I made it for my crafty friend who recently gave birth to a beautiful baby boy.
(Sorry, the gingham ribbon is no longer available.)
The stamp I used was from Time for Tag Stampset: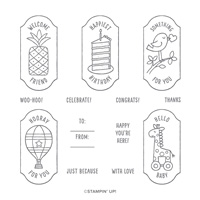 And as I was making this card, I'd decided to make a matching gift tags.
I usede different papers from the Best Dressed DSPs to make pockets for these tags and a backing for a card to stay in its place while I send it through the mail.
This can also be used as a scrapbooking base.
I've mad a box envelope, and put another DSP from the same series Best Dressed on to it.
Fit nicely into the box.

Hope you've enjoyed my project. And please visit other great design team members from each country. Their links are listed below. Have fun!!!

Hereafter, I would like to introduce a clever project from my crafty friends.

(It's a blog ranking system in Japan.)
関連記事

Pretty Cards & Paper featuring *** Best Dressed
スポンサーサイト